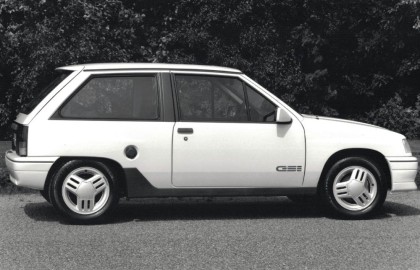 Corsa A/ Nova 1983-1992
One of the reasons holding back on developing a small Opel, was undoubtedly the success of the other model series. Additional production capacity for a new model was not available. Opel therefore chose to build an entirely new plant in Spain, because especially in southern Europe, the market share of new small cars, was about 40% of the market volume.

From the onset (1982), the Corsa was available in two body variants: two doors and a tailgate, and with two doors and a trunk, called the Corsa TR.
One had the choice out of three engines: the 10S, the 12S and 13S. The 10S was an old friend from the Kadett C OHV engine, other engines were both newly developed OHC engines, allready used in the Ascona, Kadett D and C.

The technical structure of the Corsa was broadly in line with the previously developed D Kadett, and the Ascona C front-wheel drive. The Corsa was available in four versions: Standard, Luxus, Berlina and SR. The Corsa sold very well and to face the Japanese competition in small cars, many details were changed on the Corsa.

These encluded a four-door and a five-door version and also the name was changed: LS, GL, GLS and GT models, similar to the Kadett and Ascona. The addition TR was discontinued.
The Corsa was the first small car that was equipped with a catalyst. Starting from April 1985, Opel tuner Irmscher brought a particularly attractive Corsa on the market: a 1.3-liter injection engine 83hp (top 180km/h), and later on an even more powerful 1.3 engine with an output of 126 hp, was introduced.

The Irmscher parts company also made available a Corsa convertible, working in conjunction with body manufacturer Michalak from Wiesbaden. This was a two-seat spider model, with a plastic panel covering the back seat.

At the end of 1987, Opel introduced diesel variants of the Corsa. First to appear was the 1498 (50hp) Isuzu diesel, followed by a turbocharged version of 65 hp.

Much more of a sporty character was the Corsa GSI 1.598cc having an injection engine of 100hp.
Model changes followed in 1988, and the 1.3 engine was swapped for a 1.4 injection engine.
After having produced 2 million Corsa's, Opel gave the model in 1991 a more radical facelift. Stronger bumpers, grille, lights using smaller names like City, Swing, GL, Joy, Joy, sports and GSI..
The total production of the Corsa was finalized with more than 3 million cars.