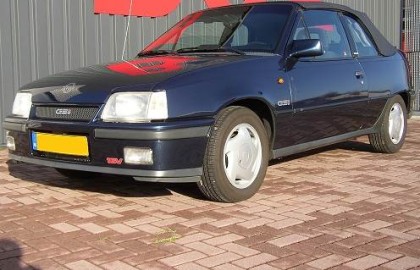 Kadett E/ Astra MK 2 1985-1992
In 1984, Opel was facing serious problems of a socio-economic and ecological nature.
There was great uncertainty about future emissions standards, besides there being a discussion about a 35 hour week. With the introduction of the Opel E-Kadett in August 1984, Opel was trying to forget the problems. With a striking sleek design and a drag coefficient of 0.30, the Kadett E was the "sleekest" car in its class.

From a technical viewpoint, there were few changes. Engines one could choose from, were the Kadett B-12S engine and the later engines introduced in the D-Kadett, with an overhead cam and a displacement of 1.297cc, 1.598cc and 1.798cc. Also the 1598 cc diesel engine was used in the E Kadett.
During the development, much attention was paid to the fact in making the engine emission much cleaner, partly by installing electronic ignitions.

At the IAA in Frankfurt in 1985, the first changes were presented. Besides the hatchback, a caravan version plus a four-door sedan with a trunk was introduced, and two engines were equipped with catalytic converters.: the 1.8i (100hp) and the 1.3i producing 60 hp.
In 1985, the motoring press voted the new Kadett car of the year.

The Kadett came as a 3-and 5-door in a basic LS version, the more luxurious GL, a
luxury GLS, and for the more sporting drivers, a GT GSI. The Italian designer Bertone, was awarded the development of a convertible version.
This convertible was available with a 115hp engine or a 100hp GSI catalyst engine.
In 1986, the Opel Kadett GSI was introduced.

Before that, an Opel version of the new 130 hp 2.0 liter had been developed. In 1989 the Kadett-E underwent several design changes, particularly at the front, adapting it to the corporate identity. Moreover, there appeared a new 60 hp 1.4i engine.